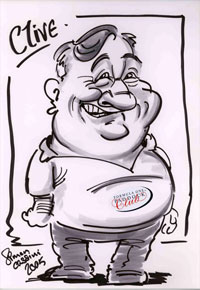 FORMULA ONE: I've been following this most glamorous of sports since the 1980s, when we used to get whisked away by helicopter from pontoons on the Thames to see how the latest photocopier could disseminate results to the world 'in a matter of minutes', and pits were something everyone had access to.
Times have changed. Now I write about how F1 teams use IT (Information Technology) and audio visual (AV) technology for competitive advantage in a very different era. F1 is now much more of a business seeking a global brand. Far from using F1 as yet another marketing tool, for some companies F1 is the marketing tool.
---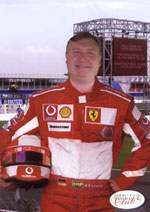 EXPERTISE – I've become quite specialised at demystifying the technology and business associated with F1: So as well as helping the general public understand how the technology ticks in their favourite team, non-F1 companies can also benefit and learn how to manage their own operations more effectively.
Both worlds have to sustain organisational performance in dynamic and competitive environments. However, not many small-to-medium-sized companies are forced to act out their highs and lows on a global stage; nor are their operations scrutinised so intensely.
Nevertheless, all the problems you'd experience in a larger company are compacted within an F1 team, and many bricks-and-mortar operations can learn a lot from how F1 teams run their businesses – from the processes of product research, development and manufacturing, through to market.
---
Publications and outlets include:
Formula One – Made in Britain: All about the British influence on Formula One motor racing. My first major book which formed the basis of an award-winning exhibition at the London Design Centre in 2007. It was also voted The Sunday Express Non-Fiction Book of the Week. In today's word of Formula One, as in any business, winning on the track (or in the market) means winning in the lab. You don't just need the best car, you need the best of engineers, the best factory, the best of everything. Or you just don't win.


---

Sunday Business: Latterly renamed The Business, I contributed business technology and Formula One analyses to the Executive Briefing section of this weekly newspaper. Readers knew that F1 wasn't just about racing but about business, and efficient business at that. Many F1 teams acted as an early bellwether of market recovery or stagnation. What they did to improve the running of their businesses as a response made compulsive reading.


---

London Evening Standard: Wrote about Formula One and its business for many of the newspaper's special supplements, most notably the Business Solutions sections where I'd lure in one of the team principals or senior staffer for a chat about their business. This unstuffy approach always made for compulsive reading and made the sport accessible to a non-F1 audience.


---

F1 Weekend: this was my first editorial vehicle for the team's sponsors. Given away to customers and press at each of the grand prix weekends – hence the title – this glossy pull-out provided a handy update to the racing and an advertising vehicle for the sponsors, showing how their products added value to the team.


---

J: Contributed to Jordan Grand Prix's official magazine. Sadly no longer with us. The team was well known for punching above its weight and this extended to publishing with a quarterly magazine that became a must-read in the paddock. Subtle brand building at its best. An eclectic mix of business, technology and the popular press. It appealed to F1 and non-F1 people alike.


---

Hilton Guest: Formula One was also very popular with the readers of Hilton Hotels Corporation's quarterly publication. This prestigious magazine was distributed to each hotel room as an 'added guest amenity' so enjoyed a huge circulation. It was also exclusive – containing few advertisements because advertisers were hand-picked according to strict criteria which matched the class and prestige of particular hotels. I wrote many an F1 business piece for UK and US guests who, until then, didn't really know too much about the sport.
---